Unlock the Power of Showcase IDX: The Ultimate Guide
If you're like me, you know that the digital landscape plays a crucial role in our business success. I'm thrilled to share my experiences and show you the best Showcase IDX features that have been a game-changer for me in generating home buyers and sellers from my WordPress website. So, let's dive into this ultimate guide and unlock the power of Showcase IDX together!
Section 1: Understanding Showcase IDX
So, what's this Showcase IDX thing all about? Well, it's an advanced IDX plugin specially designed for WordPress websites. You know what that means, right? It's a powerhouse for displaying up-to-date MLS listings on your site, giving your visitors a seamless property search experience.
Section 2: Setting Up Showcase IDX on Your WordPress Website
I remember the excitement when I first set up Showcase IDX on my website. The process was surprisingly straightforward! All you need to do is install the plugin, configure a few settings, and voilà! Your website is now armed with a property search tool that's both efficient and eye-catching.
Section 3: Harnessing the Power of Customizable Property Search
One of the coolest things about Showcase IDX is its customizable property search. It's like giving your visitors a treasure map to find their dream homes. With various search options and filters, users can easily narrow down their choices, making it a breeze for them to explore the local real estate market.
To win the client you love, you need to create content for your city real estate, right? Wrong. You need to create a custom search for what visitors are searching for. For example, Phoenix homes with pools. The number of people looking for pool homes is smaller than Phoenix homes for sale and there is less competition.
You could easily create a page for every feature in your MLS for your city with Showcase IDX. As a Realtor, I have over 2,600 custom searches like this. It's not hard to do…really. You don't need to be some computer geek. Call me if you have questions about this.
There are about 300 features for custom searches. The competitor products to Showcase IDX for WordPress don't have this easier-to-use feature section. Take advantage of it.
Go test out the search today at Southern California real estate for Sale. Click on the +Advanced Search link to see the features section.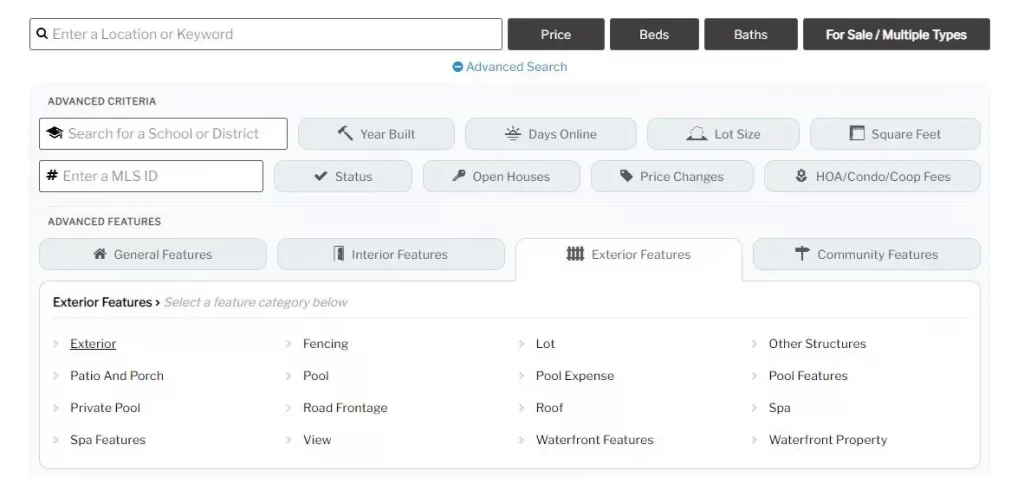 Section 4: Capturing and Nurturing Leads with Showcase IDX
Now, let's talk about leads – the lifeblood of our business! Showcase IDX comes to the rescue with its lead capture tools. When visitors sign up for property alerts or save searches, you can swoop in and start nurturing those leads. Remember, timely follow-ups are key!
Once, a couple signed up for property alerts on my website. After a quick call, I discovered they were actively looking for a new home. Thanks to Showcase IDX, I received instant alerts whenever they favorited a property, allowing me to be on top of their needs and secure a successful deal!
I use FollowUpBoss.com as my CRM. Some agents like LionDesk, Revolve CRM or KWCommand.
Section 5: Leveraging Showcase IDX for Local Market Insights
Market insights are invaluable in real estate, and Showcase IDX has a treasure trove of them! By analyzing the search behavior of website visitors, you gain deep insights into what potential buyers and sellers are looking for in your local market.
Showcase IDX Reviews: When I noticed a surge in searches for homes with solar panels, I quickly adapted my marketing strategy to highlight eco-friendly features in custom searches for a page of content. As a result, I attracted eco-conscious buyers and sellers, which gave me an edge in the market.
Section 6: Showcase IDX Integration with CRM and Marketing Tools
Ah, the magic of integration! Showcase IDX plays well with popular CRM and marketing tools. By syncing everything up, you have a centralized hub to manage leads efficiently and track your marketing performance.
Section 7: Showcase IDX Success Stories from Agents Like You
Let's take a moment to celebrate some success stories from real estate agents who've embraced Showcase IDX. These inspiring tales will motivate you to take your real estate business to new heights!
Conclusion: Unleash Your Real Estate Potential with Showcase IDX
I hope this guide has shown you the best Showcase IDX features that can be a game-changer for your real estate business. It's your secret weapon for attracting leads, offering a seamless property search experience, and gaining invaluable market insights. So, what are you waiting for? Dive in, unlock the power of Showcase IDX, and let your real estate success soar! Happy selling, my fellow agents!
Affordable Property Search Tool for Realtors
Showcase IDX Pricing: the essentials plan at $79.95 per month or the premium plan at $119.95 per month.
No setup fees.
You can choose to pay for the year or on a month-to-month basis.
If I want to add it to a 2nd website, the additional monthly fee goes down. I think you really only need is one account unless you are expanding into another state. This has to be one of the most affordable products available.
I recommend a WordPress website. Don't use Wix, Squarespace, or some other type of website.
If you want my web team to create a website for you, fill out this form and share with us your budget for this project.
I know several developers that might be a good fit for you as well.
Unlock the Power of Showcase IDX and Elevate Your Real Estate Business
As we conclude this ultimate guide on the best Showcase IDX features, let's take a moment to highlight the myriad of benefits this powerful tool brings to your real estate business.
**1. Enhanced Lead Generation: Showcase IDX equips you with effective lead capture tools, ensuring you never miss a potential buyer or seller. With seamless property search and timely alerts, you'll convert leads into clients effortlessly.
2. Seamless Property Search Experience: Offering your clients a seamless and user-friendly property search experience is essential in today's competitive real estate market. Showcase IDX empowers you to provide your visitors with a treasure map to their dream homes, increasing engagement and building trust.
3. Gain Market Insights and Stay Ahead: By analyzing user search behavior, Showcase IDX allows you to stay ahead of market trends. Understanding what your potential clients are looking for enables you to tailor your marketing strategies and seize new opportunities.
4. Streamlined Lead Management: Showcase IDX's integration with CRM and marketing tools simplifies lead management. Stay organized, automate follow-ups, and provide personalized content that resonates with your leads.
5. Boost Your Online Presence: Showcase IDX enhances your WordPress website with up-to-date MLS listings, making it a go-to destination for home buyers and sellers. A strong online presence sets you apart from the competition and positions you as a trusted real estate professional.
6. Save Time and Energy: With Showcase IDX, you'll spend less time manually updating listings and more time building meaningful connections with clients. Let the plugin do the heavy lifting while you focus on what you do best – helping people find their dream homes.
7. Harness the Power of Customization: Showcase IDX's customizable property search allows you to tailor your website to your target audience. Highlight the features and neighborhoods your clients care about most, showcasing your expertise and understanding of their needs.
Incorporating Showcase IDX into your real estate business is a game-changer, providing you with the tools to attract leads, offer a seamless property search experience, and gain invaluable market insights.
So, take the leap, unlock the power of Showcase IDX, and witness the transformative impact it can have on your real estate success!
Happy selling!
Related Topics for Best Showcase IDX Features:
The video Learning Page includes "How to get your listing on page 1 of Google within 12 Hours"
Showcase IDX vs IDX Broker – a comparison
Showcase IDX Examples:
Long Beach real estate for sale by https://www.redwagonteam.com
Newport Beach real estate for sale by https://www.newportbeachrealestatecafe.com
View great examples on the Showcase IDX website too.