Designing your real estate website to win the clients you love and they will love you. As a Realtor®, you need to design your real estate website to convey your message to the audience or consumers you want to attract.
Does your current website allow them to quickly access to answer their questions? Some consumers are looking for answers to questions about buying real estate, selling real estate, local market trends, forecasts, terms and listings for sale.
How to Structure a Real Estate Website
How do you structure your website to make it most effective? Here is a list of items you need to make it better for consumers when you are designing your real estate website.
The website should not be all about you.
Make it professional and functional for the consumer.
Consumers are looking for answers to their questions not Realtors. I know it's hard to hear. But it is true.
There should be a heading for each page along with a brief introduction
One keyword phrase per page.
If your page includes listings, place them after a brief introduction at the TOP of the page.
Presentation: What do you want the website to look like?
One agent I talked to wanted their website to be professional and generate a ton of leads. I said great. What is your target market?
"Jay, I want to be number 1 for San Pedro real estate". Um…really. So, you want to go head-to-head against Zillow, Redfin and Realtor.com. That will take a lot of time now adays.
How about more hyperlocal than that? What about dominating the neighborhood "Vista Del Oro" in San Pedro, California and writing all about that first.
What would a visitor to Vista Del Oro in San Pedro want to know?
What are the pros and cons of the neighborhood?
What are the price ranges?
Fun things to do?
and so on.
Don'ts of Website Design
Make it easy for the consumer to find listings on any page that has listings. Some agents don't have enough content and others have too much.
Too much?
Yep. They have a long, long, long page about a neighborhood and bury the listings for sale in the area at the bottom of the page. Consumers don't scroll to the bottom of your page.
Most go down about 30% to 43% of the page and then, move on.
How do I know? I use a FREE tool from Microsoft called Clarity. It helps you to see what consumers are doing on your website so you can adjust the content to "win the client" you want.
How you present the information (your knowledge of the local market) is critical to the design of your website.
What would happen if you placed your social media sharing buttons at the bottom of each page of content? Would people share it more or less? Do consumers want to see that at the top of a page or website?
How does the consumer like the flow of the design of your website?
Clarity will help you understand that.
Can they quickly find listings or answers?
PC, Laptop and Mobile Devices
Look at your website on a laptop or PC and as a mobile user.
Is there a change in your design that you need to make?
Website Design is critical to conversion.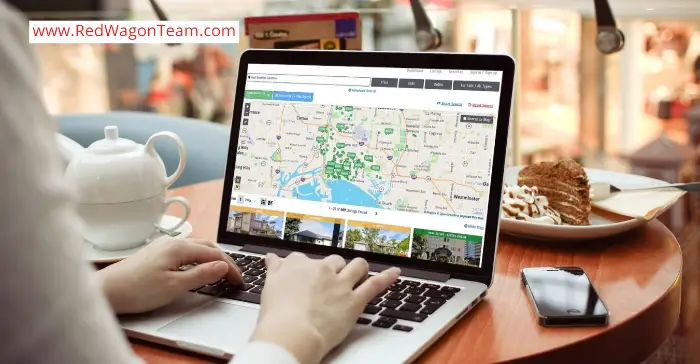 IDX Property Search Tool Matters in the Designing Your Website
The property search tool that you use should be friendly and easy to use for the consumer.
Don't use a complicated real estate property idx system or one that is not updated properly.
If you are not getting leads with your current IDX search system, look at your google analytics and see the following:
1. What is the bounce rate on each page?
2. How much time are visitors spending on each page?
3. Do you have enough content on the page or too much?
4. Do you have proper headings and photos or video?
5. Are the "listings for sale" closer to the top of the page?
I'm not getting enough leads
Look at your design, layout and how you are asking for the consumer to sign up. Are you setting the registration screen to a forced registration or a soft registration method? How many views of properties do you give the visitors 1,2,3,4 before a registration screen appears? Test it to see what works best for your area.
Want more leads after you redesign your real estate website?
Give away free reports on buying a home or selling a home. Your title insurance company should have a free report on both subjects in a PDF format. If they don't have them, contact me and I will send you what my local title insurance company has to offer.
Video of Website Design Examples
Maybe you will find this helpful.