Target marketing for real estate websites. Focus your website to a targeted group of consumers that want your unique information that no one else has to offer.
Make the website about your consumer not about you. A lot of agents make the website all about them with a big picture of them on the home page. People don't care about you. They care about themselves and what your website does to answer their questions.
Target Marketing for Your Real Estate Websites Help You to Capture & Convert more business online
When you are the go to agent for something that you really specialize in, then you tend to get more business for that area. If you specialize in commercial real estate, then I expect your real estate website to be all about commercial real estate.
If you specialize in first time home buyers, then your website should talk all about first time home buying or selling. Not about high end luxury homes.
I wish I had this wisdom when I started my main real estate website www.RedWagonTeam.com. Back in 2003, our focus was to take advantage of the internet and grow a real estate team to 100 agents. We would be supplying them with online buyers and sellers from all over Southern California.
Way to big of an area to cover. I should have been more focused on one or two areas of southern California and dominated them online and offline.
Cast Your Net Over Your Target Market Real Estate Area
Who is the ideal customer that you want to focus on?  Create a target market.  Write down who you want to focus on.  Then ask yourself a series of questions to get focused on that group of individuals before ordering a website like every other agent in the industry.
What do you love to do?  Can you market to this group of people and are they potential clients for your real estate business?
Who is your ideal customer?
How much money do they make?
How old are they?
Do they have a particular job?
How do they socialize?
What language do they speak?
What social media do they use?
What topics would be interesting to them? Would they share those topics with others?
Where do they live?
Define in Writing Who are Your Clients for a Target Marketing Real Estate Website
Really define your potential clients in writing and make your website reflect that.  Then, you stand out from the crowd of Realtors who all have the same boring websites.   All websites are not created equal.
You need to be a champion. You need to be different. You need to excel. People need to get to know you and how your website helps them make decisions about buying and selling real estate in your target market.
Take out a piece of paper and write down who your audience is.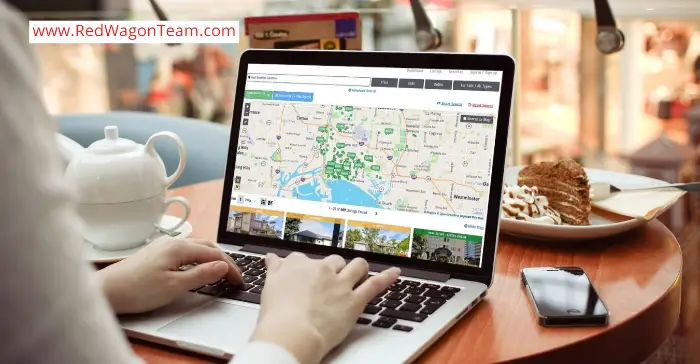 Examples of Target Marketed Real Estate Websites
Do you specialize in one type of property over another?  Perhaps you are the condo king or queen of Miami Beach or Sarasota.  Then, your website would be focused on all condos or select condo buildings online.  It would not include houses, mansions, or luxury estates.  Just condos.
Then, you would be the go-to person for Miami Beach or Sarasota condos.  You could talk about which side of the building of each of the condos gives the consumer the best view of the city, ocean, beach, bay, or harbor.
I created a website called www.marinapacificacondo.com (update: I took the site down) to focus on one community. 
And I created a page on my main real estate website that talks about that community as well as the key phrase people search for "Marina Pacifica condos for sale".   My main real estate website really covers Long Beach real estate and beach cities along the coastline in Southern California.
Luxury Studio City Condos for sale is located in the Los Angeles area and focuses mainly on condo buildings. My celebrity real estate agent follows up with the buyers and sellers.
Frederick real estate agents in Maryland, Karen & Chris Highland of eXp Realty focuses on the city of Frederick. They live there and their websites provides consumers with great information about the area including a golf course community called Whisky Creek Estates.
If I wanted to live on a golf course in that area, I would read their blog post about the area before looking at listings.  I want to get a feel for the community.  I may want to review the current housing market details for the city as well.
If I was interested in Hudson County real estate and condos along the Hudson, I would review Walter Burns website called www.livingonthehudson.com. He covers everything I would want to know about the area.
The goal of the Phoenix Real Estate Guy website is giving you a feel for the area.  They cover local topics in blog posts about Phoenix, Tempe, Chandler, Gilbert and Mesa.
For community blogs, I like these two: www.BalboaIslandhouses.com and www.RailLife.com.  Balboa Island is all about the one neighborhood in Newport Beach that is surrounded by water.  There are about 30 businesses on the island. 
Rail Life is life along the light rail system that travels through Tempe, Arizona and past Arizona State University.  The owner gives you an idea of what life is like along the rail.  They cover businesses and housing along this method of transportation.
Consumers that Go to Your Website Ask Several Questions
When they land on the home page of your website, consumers are asking themselves questions about it. Don't assume that all they want is listings. This is a myth of the real estate industry. People go to your website for a wide variety of reasons.
If I'm moving to your city, I want to know what is fun to do there. Where are the best neighborhoods. Which areas offer me the best view. Where is best places for coffee, food, the gym? What kind of weather can I aspect when I live in your city?
If your website does not answer my questions I leave it.
Bye, bye.
Questions that Consumers are asking themselves when they land on the home page include:
How is this website going to answer my question about__________________?
Where is information on _______________________?
Is it easy to use?
What is this website about?
Who do I call?
When they get frustrated, they leave your website. I call this the bounce rate or exit rate. I want consumers who go to my real estate websites to spend as much time as possible.
If you need a website that is focused on your target market, then request a website. Our staff is here to create you an effective website design that helps you dominate your target market online.
What areas or target markets do you cover? How is your website different than your competition? Comment below. I love feedback on this topic.